"To have full control over the development, manufacture and sale of In Vitro Diagnostic reagents for the benefit of patients"
A reference in turbidimetric assays
With more than 25 years of experience in the production and R&D of immunoturbidimetric reagents, Diagam has naturally established itself as a quality reference in the market. In collaboration with the medical sector, our customers and distributors, we are constantly developing our products to meet the needs of the diagnostic industry.
Diagam is involved in projects to develop new technologies based on the use of colloidal nanoparticles.
Your partner in specific proteins
All our products are developed and produced within the company. Our reagents, calibrators and controls are liquid, stable and ready to use. They are adaptable with barcodes on all "open" biochemistry analyzers. Diagam is a member of the European Diagnostic Manufacturers Association (EDMA) and SIDIV. All our reagents are marked and Diagam is ISO 9001:2015 and ISO13485:2016 certified. All values of our calibrators and controls are assigned directly using international standards (WHO, IFCC, NIBSC, etc.)
DIAGAM is first and foremost a team of enthusiasts committed to human values!
Behind Diagam is a motivated team of committed people who work every day to produce and develop quality products and to offer you the best service.
Quality Control team
Quality is our priority!
Technical service & support
Always there to answer your questions directly
Production
With a radiant smile
Team meetings
Together we go further
Research and Development
We never stop innovating
Research & development: towards innovation
Our R&D is active in the field of biotechnology. It is focused on the development of classical immunological technologies and on the development of innovative technologies. The products in our catalog have been developed and characterized by Diagam.
Diagam innovations
Diagam's research and development has led to the development of new techniques based on the use of colloidal gold nanoparticles for in vitro diagnostics.
These activities have enabled Diagam to complete its product range with reagents based on the use of these nanoparticles for the determination of Cystatin C, Ferritin, Rheumatoid Factor and Fecal Calprotectin.
Reliability - flexibility - cooperation: the three values that define us.
Quality remains our priority. Regulatory requirements ensure that every product put on the market is reliable, comfortable to use and meets the essential safety and performance requirements.
Our high level of flexibility and the strength of our team enables us to adapt quickly to the changing healthcare sector. Our teams are rooted in mutual support and collaboration, which is essential to the long-term success of our relationships and our company. For us, the human aspect is very important, both among our various employees and with our customers, distributors and partners.
Cooperation
Flexibility
Reliability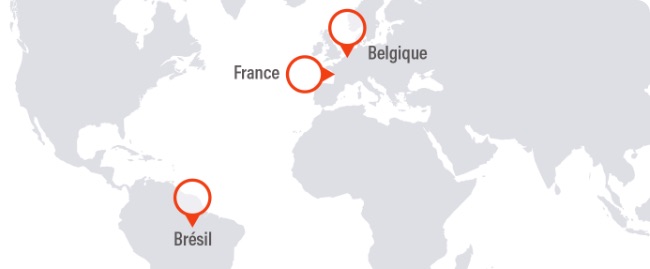 Presence and accessibility worldwide
Our operations are carried out by our direct representatives in Belgium, Brazil, France and the Iberian Peninsula. With the help of our partners, we also export to South-East Asia (ASEAN), Europe, the Middle East and Africa (EMEA), Latin America (LATAM) and the USA. Our production site is located in Belgium.
We focus on the needs of our customers and follow our philosophy of providing high quality, efficient reagents.