Your expert in specific proteins
Diagam has been active in the field of diagnostics for over 25 years. Our company develops and produces specific protein reagents that can be adapted to all open biochemistry analyzers.
OEM
Bulk for virtual manufacturer. With the same quality as its labelled products, Diagam offers its reagents in bulk or packages them according to its customers' needs (virtual manufacturer).
Barcodes
Comfort and safety on biochemistry analyzers. Dedicated kits complete with fully validated methodologies are also available with barcoded vials adapted to the analyzers on the market.
Consolidation
Partnership with market leaders. As a reference company in specific protein assays, Diagam regularly completes the market leaders' test menu.
Albumin assay
Albumin is the most abundant circulating protein in human plasma. It plays a major role in the maintenance of oncotic pressure and the blood transport of many molecules. The albumin assay is used by clinicians, for example, to assess the nutritional status of patients, to diagnose nephrotic syndrome or to calculate corrected calcium levels.
Alpha-2-macroglobulin
Alpha2-macroglobulin is a very large (725 kDa) protease inhibitor, mainly synthesized by liver parenchyma cells. It is involved in the inhibition of enzymes involved in the kinin-kallikrein, complement, coagulation and fibrinolytic systems.
Need advice on immunoturbidimetry?
Diagam worldwide
Diagam is a European company (with its main production headquarters in Belgium). We are active worldwide through our sales office in France, our international partners, and our production site in Brazil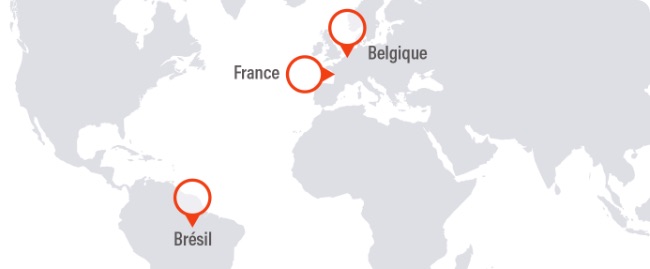 Standardisation of albumin assays in a h...
Cette étude de cas n'a pas été menée par Diagam mais par les personnes et organismes…
---
Events
Why we are a reliable partner
All our reagents are developed and manufactured within the company.
Our reagents, calibrators and controls are liquid, stable and ready to use.
They can be used on all open biochemistry analyzers (Roche – Modular® – cobas 6000 / 8000®, Beckman Coulter – AU®, Ortho – VITROS ™ 5,1 FS Chemistry, VITROS 4600 ™ Chemistry, VITROS ™ 5600 Integrated Systems, Abbott – Architect ® – Aeroset®, Siemens- ADVIA®, Thermo-Konelab®, etc.)*.
All values of our calibrators and controls are assigned using international standards (WHO, IFCC, NIBSC, etc.)
Diagam is a member of the European Diagnostic Manufacturers Association (EDMA) and SIDIV.